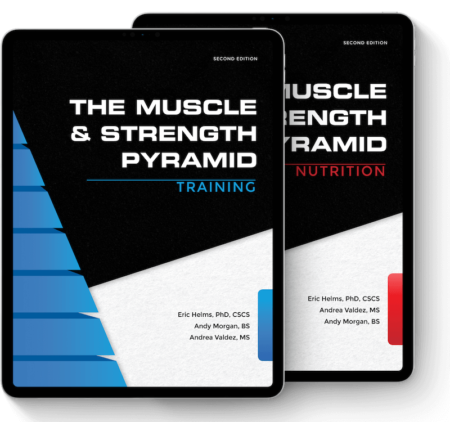 THE MUSCLE & STRENGTH PYRAMID BOOKS
THE 2ND EDITIONS
Ready to end your frustration?
These books will show you how to build and tailor nutrition and training plans, so you can finally achieve your physique and strength goals.
The latest evidence-based recommendations, distilled and clearly explained by one of the industry's leading experts.
THE TRAINING BOOK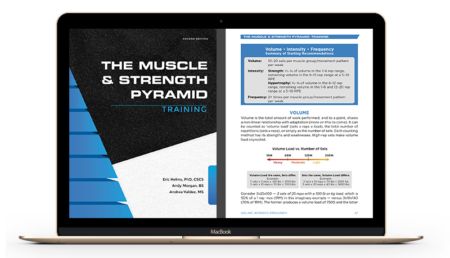 Six sample routines to get you started quickly
Six programs for novice, intermediate, and advanced-level bodybuilders and strength-focused athletes.
Break through those training plateaus
With our full progression guidelines and examples, you'll never be left frustrated and wondering what to do next.
Tailor your programming for faster results
Our quick-start programming guide will show you how to apply all the principles that go into program design.
THE NUTRITION BOOK
No longer waste time and energy with your nutritional efforts
The structured order of importance is what makes this book different. Learn what matters and when.

Use our science-based calculations for optimal setup
Whether you're headed for the bodybuilding stage, cutting pounds for a weight class, or about to go on a bulk, we've got it covered.
Achieve continued and lasting changes
Learn how to balance adherence, consistency, and flexibility so you can live your life while progressing toward your goals.
WHAT TRAINING EXPERTS ARE SAYING
The books bridge the gap between the latest scientific information and practical implementation.
There is no gimmick by the authors to make more money and the training principles here are not mired in confusion. Rather, the work on the Internet that we wish existed previously is now available; and if you are a novice or intermediate this book will help you bypass the stage of confusion.
Michael C. Zourdos, PhD, CSCS
I wish I had a resource like this during my initial foray into the fitness field!
This a must-have for anyone looking to take their training to the next level. It's a true evidence-based approach that combines the latest research and years of in-the-trenches experience to formulate a blueprint for program design.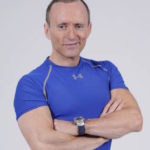 Brad Schoenfeld, PhD, CSCS, CSPS, FNSCA
Founder of LookGreatNaked.com
Others dumb it down way too much, and miss CRITICAL nuance.
Few people know how to strike the right balance when they talk about training. Some people make it overly technical, which makes it easy for the reader to miss the forest for the trees. Others dumb it down way too much, and miss critical nuance. Eric, Andy, and Andrea have struck the perfect balance. I guarantee you'll learn something from it, and walk away with a much better overall understanding of the training process.
Greg Nuckols
Former World Record-holding Powerlifter, Founder of StrongerbyScience.com and MASS
WHAT NUTRITION EXPERTS ARE SAYING
Distills what REALLY matters for nutrition and training.
Eric Helms represents the next generation of exercise scientist. Not content to take other expert's word for it, Eric desired answers so voraciously, that he did what any good scientist does… he became obsessed and crazy enough to do his own original real research. I can't recommend these books highly enough.
Layne Norton, PhD
IPF Unequipped World Record Holder, IFPA Natural Professional Bodybuilder
I would have saved myself years of confusion.
It's difficult for me to write a sufficiently accurate appraisal of the content within these books without sounding like I'm overplaying the quality and net benefit to be gained from them. The quality of content is astounding. The delivery is masterfully crafted and paced. And the net result for the reader is one that will be truly impactful on their approach and practice, whether they be a fitness enthusiast or a seasoned coach.
Danny Lennon, MSc
Nutritional Science SigmaNutrition.com
Highly recommend this for anyone looking to change their body composition.
Whether you're looking to get big or get ripped, Eric shows you, in an evidence-based yet easy to understand fashion, the hierarchy of importance of the things you need to consider. There's no B.S. or huge promises; just a straightforward, no-nonsense, practical guide to nutrition and training for transforming your body.
James Krieger, MSc
Founder of Weightology.net
Ready to go from nutrition and training principles to practical application and progress?
Prefer physical copies?
Now available on:
(No Black Friday discount available on Amazon orders.)
THE AUTHORS
Eric Helms, PhD, CSCS
Chief Author
For the better part of his career, Eric has worked with drug-free physique and strength competitors at all levels, including the current 105 kg IPF powerlifting champion. Eric has pro bodybuilding status with the PNBA and competes in the IPF at the international level.

As a published protein and strength researcher, Eric knows a little something about science too. He has taught undergraduate and graduate level nutrition and exercise science, has a BS in fitness and wellness, an MS in exercise science, a second masters in sports nutrition, a Ph.D. in strength and conditioning, and is a research fellow for AUT at the Sports Performance Research Institute New Zealand.
Andrea Valdez, MS
Co-Author
Andrea is a lifelong athlete, experienced coach, and content creator.

She has trained athletes in multiple disciplines for over 15 years, and has a M.S. in Exercise Physiology from the University of Oklahoma. She has also been a bodybuilding coach, podcast host, and operations director with 3D Muscle Journey since 2015.
Andy Morgan, BS
Co-Author
Andy Morgan is an online training and nutrition coach.

He has seven years of experience working full-time coaching people exclusively online. You can find 100+ client result photos and 400+ client testimonials on his site. This puts him among the most experienced coaches out there, with the results to back it up.
FREQUENTLY ASKED QUESTIONS
Where can I purchase physical copies?
Who are the books written for?
What do you mean by, "free future versions, forever"?
Are the books fully referenced?
What's new in the second editions?
Are they available on Kindle?
Does the training book contain sample training programs?
Does the nutrition book contain any actual example macro plans of real competitors? What about meal plans?
Why offer the money-back guarantee, isn't that a little unusual for a book?
How do these books build on your 2013 and 2015 Youtube video series?
100% risk-free. 30-day money-back guarantee. No questions asked.
WHAT OTHER INDUSTRY EXPERTS ARE SAYING
I don't question myself. I don't wonder, "How many sets of this should I do? High reps or Low Reps? Am I on the correct workout split?" No, I am confident in myself. This knowledge comes from an accumulation of experience and by humbling myself and listening to the experts in this industry, not just the guys with the best physiques or highest follower count. This is your chance. End your Wheel Spinning. Buy these books.
Matt Ogus
Physique Athlete, Former Coaching Client
Finally, a comprehensive source to send people to who are interested in bodybuilding. I was coached by Eric's partner Jeff Alberts for my bodybuilding competition, the results you can see in the photo, the principles in this book were applied. I would recommend to anyone looking into doing a bodybuilding show or if you are coaching bodybuilders.
Dr. Spencer Nadolsky, DO
Board Certified Family and Obesity Physician, DrSpencer.com, DocsWhoLift.com
Over the years I have read many books. Some are bad, some are good and a few are amazing — these fall in the latter category. Eric has referenced a lot of the available literature but still managed to write in an easy, straight-forward way that makes it very practical to use.
Juma Iraki BSc
Head of Nutrition Academy For Personal Training (AFPT), CEO Irakinutrition.com
Eric Helms and company have gone to great lengths of providing a resource that doesn't set out to describe a particular nutritional strategy or training template, they lay out the fundamental principles and their relative importance in detail, while still remaining extremely readable.
Bryce Lewis
2018 IPF 105kg (230lb) World Champion, Founder of TheStrengthAthlete.com, Coaching Client Since 2010
100% risk-free. 30-day money-back guarantee. No questions asked.